R.E.AL HELP
Realty Experts Aligned to Help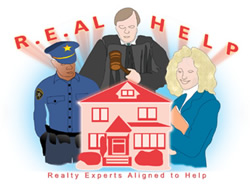 Sheriff Balles created the R.E.AL Help program in 2009 in an effort to help those who are facing or in danger of foreclosure. The goal of the program is to connect community members with the appropriate resources throughout the county to make sure they are getting the help they need.
Our Featured Partner Agency
Are you in danger of, or facing foreclosure? Start here.
Consumer Credit and Budget Counseling

Russell Graves - 609-390-9652 x3110
Susan Cherwien - 609-390-9652 x3130

Federal and State
The Alliance develops and preserves affordable housing as well as provides services to maintain housing affordability.

For Rental Search Assistance, click here.
For home owner programs such as foreclosure intervention or reversed mortgage counseling, assistance, or workshops, click here.

Additionally, the alliance has several financial resources available on their website.
Clarifi is a housing counseling agency which offers guidance on home buying, renting, reverse mortgages, and default and foreclosure prevention. Their HUD-certified (Housing and Urban Development) counselors can work with you to explore options to avoid foreclosure, at no cost to you.

The local Clarifi office is located at 4 E. Jimmie Leeds Road, Suite 10 in Galloway.
To schedule an appointment online, click here or call 1-800-989-2227.

Clarifi offers a number of additional services to help community members including counseling before buying a home, financial security for seniors, and family household budgeting. Visit their website for more information.
Consumer Credit & Budget Counseling
Consumer Credit and Budget Counseling is a HUD (Housing and Urban Development) approved housing counseling agency that helps delinquent homeowners and those that are facing foreclosure. They help clients examine their current situation and help them determine if keeping the house is possible, and the steps the clients will have to take to keep their home.

Located at 299 South Shore Road, Marmora, NJ 08223
To make an appointment with a counselor, call 609-390-9652 or 1-888-738-8233

Other services offered by CCBC include credit counseling, financial literacy, and warrior support services.
The State of New Jersey Department of Community Affairs provides detailed information regarding landlords, tenants, and the rights of these parties.
For specific information on tenant's rights in a foreclosure, click here.
The Making Home Affordable Program is a critical part of the Obama Administration's broad strategy to help homeowners avoid foreclosure, stabilize the country's housing market, and improve the nation's economy.
Money Management International
Money Management International specializes in many services including Foreclosure Prevention.
In addition to the services they provide, MMI also has foreclosure prevention resources available on their website.
Counselors will take the time to thoroughly understand your situation and provide you specific advice. They will work with you to develop a personal financial assessment by analyzing your income, expenses, assets, and liabilities.

Visit their website or call 1-888-845-8669 x5988
New Jersey Housing and Mortgage Finance Agency
NJHMFA is dedicated to increasing the availability of and accessibility to safe, decent and affordable housing to families in New Jersey. 
NJ SHARES is a statewide, nonprofit organization that provides grants to pay the energy and utility bills of households in need. Through education, information, referral, advocacy and community outreach, they connect low and moderate income households with available resources.
U.S. Department of Housing and Urban Development
The U.S. Department of Housing and Urban Development (HUD) sponsors housing counseling agencies throughout the country that can provide advice on buying a home, renting, defaults, foreclosures, and credit issues.

Foreclosure prevention counseling services are provided free of charge by nonprofit housing counseling agencies working in partnership with the Federal Government. These agencies are funded, in part, by HUD and NeighborWorks® America. There is no need to pay a private company for these services.
County
211 is a free and confidential service that helps people in Atlantic County find the local resources they need.
You are encouraged to dial "2-1-1" 24 hours a day, seven days a week if you need help in understanding and finding available assistance services. Language translation and TTY services are offered to any caller.
You can also search their database for services in your local community or Chat Live with an experienced community resource specialist. 2-1-1 will help identify with you the best local resources to fit your individual needs during times of distress or for life's everyday situations.
Atlantic County Veterans Services
The Veterans Services Office provides assistance, referrals and case management services to military veterans and their family members regarding their legal rights and eligibility for services and service-related benefits.

Located at 1909 New Road, Northfield, NJ
Call 1-800-461-8262 x2800

For more Veteran services in Atlantic County, click here.
For contact information for state and federal Departments of Veteran Affairs, click here.
The goal of Ready, Vet, Go is to promote housing stability among veterans and their families who are homeless or at risk of homelessness.
Direct Services provided include rental assistance, security deposits, transportation, utility bills, and more.
For Atlantic and Cape May Counties, contact Diana Martinez at 856-701-5488 or by way of email at Diana.Martinez@camdendiocese.org

Other programs available through Catholic Charities include adoption services, behavioral health services, disaster response, school-based family support, intensive welfare case management, and more. Click here for contact information.

For those who need assistance due to the Atlantic City Casino Closings, visit their website or call their hotline at 1-856-342-4145.
South Jersey Legal Services, Inc.
South Jersey Legal Services, Inc. is a non-profit organization created to provide quality legal representation and advocacy to low-income individuals. They seek to empower low-income individuals to access the judicial system.
For legal assistance, please call 1-800-496-4570 between 9:00 am and 1:00 pm or contact one of their local offices.